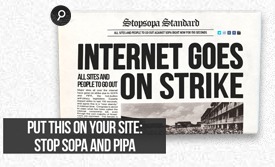 If you are not aware about SOPA (Stop Online Piracy Act), it is a new bill that is being debated whether it should be implemented or not. SOPA removes the freedom from the internet which threaten the reason why internet exists . Click here to learn more about SOPA.
How to help stop SOPA?
You can call your local government and ask them that you are against SOPA . You can also sign up a petition telling that you are against SOPA and send it to your local government office or by visiting SOPASTRIKE. If SOPA will be stop for good then we will be able to continue watching shows like this.

STOP SOPA AND PIPA! ACT NOW AND PROTECT THE INTERNET FREEDOM!
Join thousand of websites that is against SOPA/PIPA such as Google , Yahoo, Wikipedia, Mozilla, Reddit, Tucows, Craiglist, WordPress ,Tumblr, Vimeo,Flickr and many more.